English Buzz holds its
2nd annual Spelling Bee Contest for 2016
English Buzz Bali held its second Spelling Bee competition last December 17, 2016 at Hotel Nikki Denpasar.  More than 90 young learners between 7-12 years old from different primary schools in Denpasar joined this exciting event.  Participants and their families witnessed this fun event and were amazed to see how their children's hard work paid off.  Winners took home cash prizes, a trophy, gift vouchers and certificates.
English Buzz promotes program like this, as spelling bee not only provides a valuable educational experience for children, but also allows them to engage in healthy competition in a supportive environment. They also learn grammar, enhance their vocabulary, gain self-confidence and develop a range of cognitive skills when they join contests like this.
Here are some of the highlights of The Spelling Bee 2016: 
Two thumbs up for our Ebuzzers! Students at English Buzz from Pre-Primary to Grade 6 levels have successfuly showcased their English skills and their raw natural talents in front of an audience, parents and friends last Saturday, 23rd of April 2016, by singing and dancing to Hollywood and Disney movies soundtracks such as Frozen's hit song 'Let It Go and Do you want to Build a Snowman?', performed by our Grade 2 and 3 Ebuzzers.
From the title itselt, this event 'It's Showtime!' gave the opportunity for students to show everyone how they have progressed in their vocabulary and  speaking skills in English  by interpreting other songs such as Madagascar's 'I Like To Move It', performed by our cute Pre-Primary-TK pupils, 'Accidentally In Love'- from the movie Shrek- sang and danced by our Grade 6 and 'A Whole New World' based from  Disney's 1992 film Alladin performed by the whole group at the end of the show.
English Buzz, the only language school in Bali which uses holistic method of teaching, organizes events and performances to show their language development in an exciting and interesting way, music, role play, competition relevant in real-life situation. Truly, It was worth watching!
Like our show? Let your child join our next performance in December. Join English Buzz now!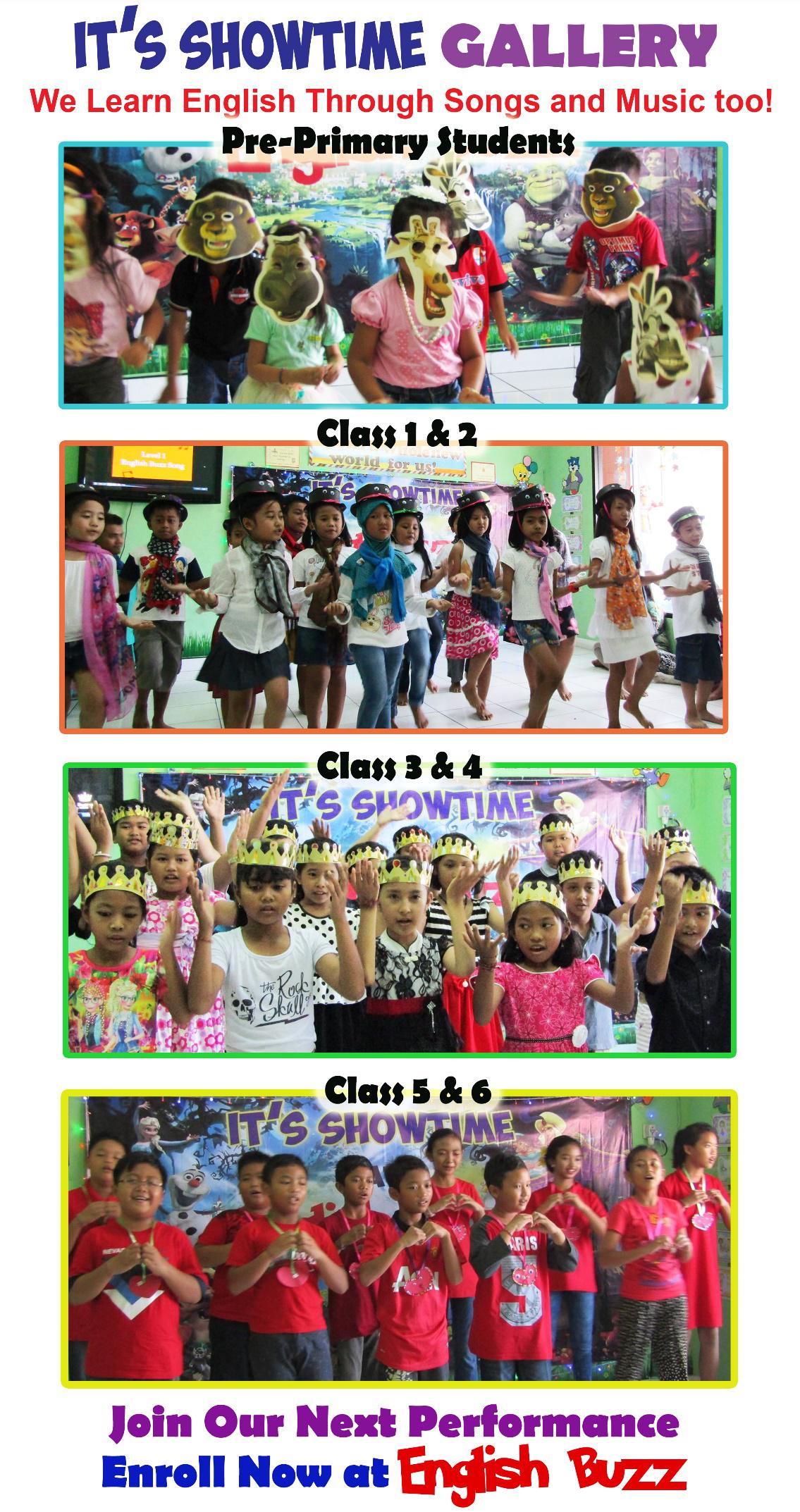 A Crash Course in English for hospitality & 
service industry is now open!
Learn English fast and easy–  Classes are now open for those students who wish to work at any hospitality or service industry such as cruise line, airline, hotels and restaurants among others. Program is available for a month, two-month course and three-month course depending on their progress and skills achieved.  Our school offers low tuition fees and light payment schemes for our students.  
Invitation for a JOINT VENTURE –   English Buzz Bali also invites investors, owners and managers of any hospitality and service industry for a joint venture, that is specialized English course in a group package. Our school offers langage services to your team or staff, customers, students or applicants, among others,  to carry their jobs (local and global) effectively and successfully.  Increase your company's sales and revenue by joining our family.
Pls.follow this link to see our proposal letter.
Proposal in English
Proposal in Bahasa Indonesia
We believe that great things start from small beginnings! Our school is now ready to teach English language for our learners ages 4 years old and up to primary level.  This program is designed to teach them the basic skills just right for their age level. It's purely fun and interesting activities for your young learners. Start now and bring out the best in your children.
English Buzz Commences 
1st Spelling Bee Contest for 2015
English Buzz Bali held their first ever Spelling Bee competition for primary students last December 17, 18, and 19 in Denpasar.  More than 50 students from  7-12 years old participated in this fun and challenging event witnessed by their parents and friends.  Winners get Free English classes up to three months at English Buzz. The next Spelling Bee will be held on June, 2016.  Here are some of the highlights of this year's event;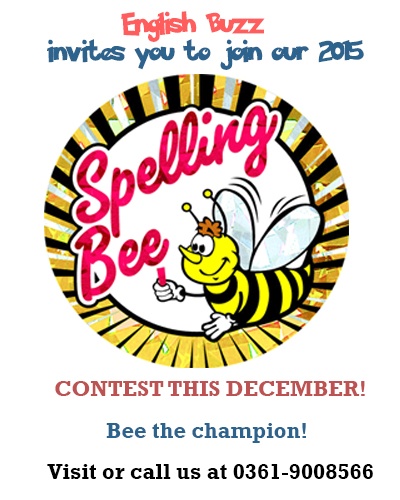 Our Spelling Bee is buzzing around!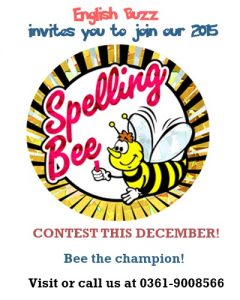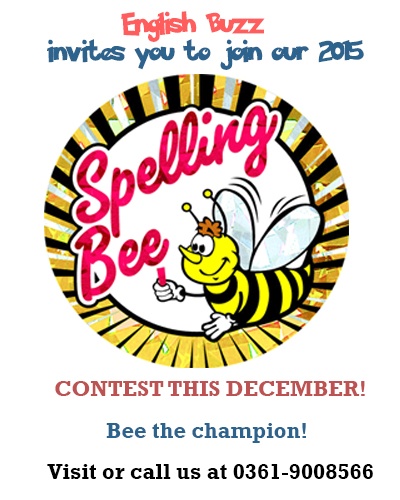 English Buzz Spelling Bee Contest 2015 – Our aim is to enable our students to enhance their vocabulary skills and develop their listening, reading and writing ability for better understanding of the English language. Also, this is a healthy competition where the student's confidence level is boosted as they need to speak in front of their friends and teachers. Both cognitive and emotional skills are being developed in this type of competition.
Spelling Bee Competition Eligibility;
All students of English Buzz are encouraged to join this contest.
This contest is open only to English Buzz students (from Primary to Senior High School) enrolled for a month or so and continuing to the next level.
Our teachers will provide a Spelling List for students to memorize and practice at school and/or at home. (Easy, Average, Difficult)
Employees' relatives (to any degree) are not permitted to join this contest.
Registration is Rp. 25.000 for each student.
Deadline for registration is December – 4 – 2015.
Note: Mechanics of the Spelling Bee will be posted soon.