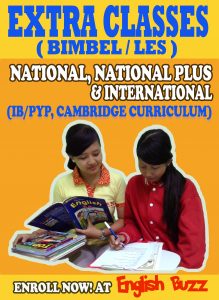 Extra Classes – Support Group
We are glad to offer students from international and national plus schools extra class/support/tuition program to assist them in the understanding of the Scope and Sequence of their current curriculum.  Activities in this program include; Homework guidance and research, Vocabulary- Spelling and Dictation mentoring, working on projects, as well as revision for examinations and mastery of lessons in English, Math and Science.  Our well-trained teachers also assist low level learners to achieve their Grade-Level skills by using learning engagements and learning tools suitable for the student's needs or their areas to work on.  Subjects taught are Math, Social Studies, Science and English, Bahasa Indonesia among others. A pre-assessment is also conducted to identify the student's strengths, weaknesses, opportunities and threats (SWOT Analysis).
We welcome students enrolled in any curriculum such as IB/Primary Years Programme, Cambridge International, Singapore, National, Montessori Training among others in this type of class.