Our Teachers
Profile

​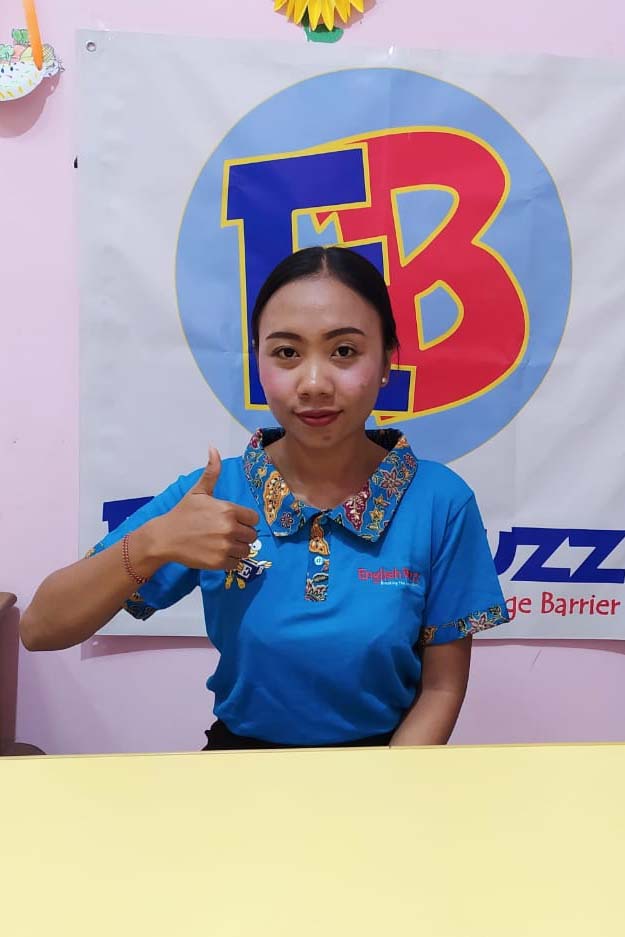 Head of School/Coordinator of English Buzz
Hello dear student, this is your English teacher, Ni Wayan Asa Wahyunintya, S.Pd., or  Miss Asa for short. I am a fresh graduate from English Education Program in Mahasaraswati Denpasar University. I am currently teaching English Buzz students and Kindy A students of Little Buzzers Preschool.
I love traveling and explore different places, food, and culture here in Indonesia. Of course, I make sure that it fits my budget too! I am a Social Media enthusiast and a lover of anything wonderful and beautiful in nature and the environment.
I teach with a passion and my inspirational quote is "There are various kinds of people in this world. We cannot choose which one we are going to meet or who stay beside us right now. Just keep being who you are even what they have given to you is not good to you and your soul".
---
ESL/English Instructor and Subject Teacher
Hi everyone, welcome to English Buzz, this is your vibrant Teacher Ms. Naomie, from Manila, Philippines. I am a graduate of Mass Communication with a background in Professional Education. I have more than 10 years of solid teaching experience in international schools in the Philippines and here in Bali, Indonesia, where I teach English, Science, and Maths to young learners.
So let me tell you what I can offer you as a teacher?  I'm basically here to assist you learn the language and its essential skills necessary to help you succeed in your chosen field in the future or in your global business. And no matter which learning group and age you are, I can help you improve your English skills; in listening, speaking, reading, and writing and other skills such as pronunciation, grammar, vocabulary, and spelling, which all play a role in effective English communication, whether, General, Academic, Business English or simply daily conversation.
I also believe that a good teacher teaches from the heart and not only from the book. We must allow our students to express themselves and enjoy the experience of going beyond their comfort zone by trying to speak a new language.  This will help them if they want to study abroad or simply gain a global perspective. I am an advocate of internationalization and by learning English, as the universal language, is the first step for students to discover the world.  Everybody should be a part of breaking the language barrier!
Thank you so much for your time and looking forward to meeting you in my class.
---
Classroom and Language Teacher
Hello dear students! My name is Vieny Andani Padmallah. My nickname is Miss Vini. I am a fresh graduate from UNDIKSHA, with a major in English Education.
I like to spend my quality time by doing some activities. For example, watching thriller and Science fiction movies, also reading animated comics, listening to the music, and playing & learning with kids. My favorite movie of all time is Harry Potter as the elements and digital effects amazed me!
I also like to spend most of my time with children as interacting with them is a fulfilling and wonderful experience. They look so precious and delightful as we watch our students mature in learning and studying. It is also fun to listen to their stories, express their feelings and emotions. I am looking forward to sharing my knowledge and skills in teaching to my students. Looking forward to meeting you all!